Written by:

Kamran Mofid

Hits: 189
Boris Johnson, you are nothing but a 'Dogmeat wrapped in the Union Flag'- David Hare
Boris Johnson and his Deceitful Brexit have brought British democracy to its knees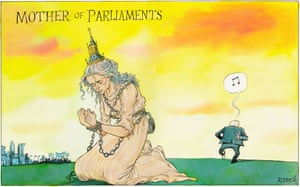 Illustration by Chris Riddell, Via The Guardian
In the Interest of Truth, Wisdom, Honesty, and Trust Brexit must be Overturned:
We Owe this to Ourselves, Our Moral and Spiritual Compass
Lest We Forget
In his long years of public disservice, Boris Johnson managed one thing perfectly well:
Written by:

Kamran Mofid

Hits: 291
From 1973 when I first discovered the Greggs Bakery in Cheylesmore, Coventry, I knew that they were different and special.
Thank you Ian Gregg for confirming my belief in the goodness of humanity: We are not all bad, selfish and greedy. Indeed, Mr. Gregg, you have proved that not all in the business world are committed members of the 'Fat Cats Club', as some for sure have discovered what it means to be for the common good.
Ian Gregg: Bringing Home the Bread for 50 Years,
Balancing Purpose and Profit to become a Force for Good
Written by:

Kamran Mofid

Hits: 195
Perfectionism is Killing us: How Can We be More Ordinary, More Normal?
Let us hope that one day we will all rise to the challenge of seeing and noting the beauty of the imperfect and the imperfection, the impermanent and the incomplete. And that, all said and done, "good" is truly "good enough."
Photo:slideshare.net
This posting is dedicated to all those suffering from the epidemic rise in the hallucinating 'Perfectionism' illness, especially the Generation Z (Gen Z), who are also called 'digital natives'—the first generation to grow up with the internet as a part of daily life, which comprises people born between 1996 and 2010. This generation's identity has been shaped by the digital age, climate anxiety, a shifting financial and employment landscape, COVID-19 and the damaging rise in 'perfectionism.'