The wisdom of learning to Do Nothing lies in the fact that it promotes a sense of relationality and belonging, meaning and purpose
'Doing nothing is better than being busy doing nothing.' – Lao Tzu
'Do nothing and leave nothing undone,' says Lao Tzu.
Before I explain more, I am sure you probably are thinking that this Doing Nothing sounds a bit wishy-washy, coming from an out of touch and unrealistic mind. But please stick with me here. Doing nothing doesn't mean being lazy, idle or wanting to avoid work. The meaning is deeper than that. What it means is effortless action/sincere and meaningful/purposeful action. Thus, stay put and more will be revealed…
Photo: Via LinkedIn
WU WEI – DOING NOTHING 無爲
'Wu wei means – in Chinese – non-doing or 'doing nothing'. It sounds like a pleasant invitation to relax or worse, fall into laziness or apathy. Yet this concept is key to the noblest kind of action according to the philosophy of Daoism – and is at the heart of what it means to follow Dao or The Way. According to the central text of Daoism, the Dao De Jing: 'The Way never acts yet nothing is left undone'. This is the paradox of wu wei. It doesn't mean not acting, it means 'effortless action' or 'actionless action'. It means being at peace while engaged in the most frenetic tasks so that one can carry these out with maximum skill and efficiency. Something of the meaning of wu wei is captured when we talk of being 'in the zone' – at one with what we are doing, in a state of profound concentration and flow.'- The School of Life
Watch the video below for an excellent definition of the concept of Doing Nothing
Lao Tzu's Concept of Wu Wei - The Art of Doing Nothing
Nota bene
'To do nothing at all is the most difficult thing in the world, the most difficult and the most intellectual.'- Oscar Wilde
The avid readers of our GCGI Blogs know full well that, throughout the years we have been passionate advocates of 'Doing Nothing' to be happy, joyous, content, gaining inner peace and a quiet mind. We have come to believe that indeed, by learning to do nothing, we will, in due course, in an orderly fashion, do everything, realising our goals and daily tasks.
Today, I was pleased to come across an article by an accomplished author on spirituality and mindfulness, which clearly resonated with me, prompting me to prepare and write this current posting. More on the article a bit later. First, I wish to recall a sample of our postings on these topics over the past few years to refresh our thoughts, imagination and possibilities.
Zhuangzi -Chinese Daoist philosopher
'Society has shifted toward prioritising hyper-productivity, making the notion of doing nothing seem unproductive and inefficient.
'If there is time left unfilled during the day, there is an urge to fill it with something.
'It's no wonder people have such a hard time relaxing and enjoying moments of nothingness.'- Rachelle Williams, Vedic Educator
The sweetness of doing nothing.
"Let me look out of the window
stare fixated at the distant bough
let me hold a warm cup of tea
long after its contents are over
let me empty my thoughts
watching the dancing shadows
shimmering on the walls
let me potter around aimlessly
without feeling guilty
let me put my feet up
and pause;
pretend to stop
the ticking of the clock
allow me an extra ten minutes
to stand under the hot shower
wrapped in fresh feelings
let me lie in bed
gaze at the ceiling
think of everything
or not anything
let me take a restful nap
have a new dream
in the middle of everything
just for a bit
let me just be
let me do nothing."- Reprinted from P.S. I Love You
'Going nowhere ... isn't about turning your back on the world; it's about stepping away now and then so that you can see the world more clearly and love it more deeply.'- Pico Iyer
'A generation that cannot endure boredom will be a generation of little men… of men in whom every vital impulse slowly withers, as though they were cut flowers in a vase.'- Bertrand Russell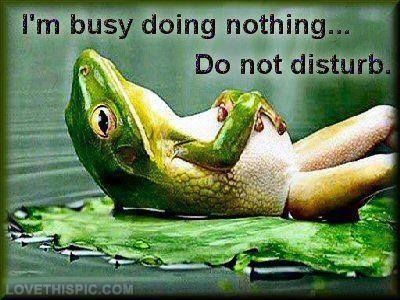 I have been a Dutch man for quite a while now, come and join me!
In Praise of 'Enoughness' and 'Lagomist' Economy
I am doing Nothing, how about you?
Journey to Healing: Let Me Know What is Essential
Photo: YouTube
And now come together and sing the praises of Doing Nothing!
At this point, reverting back to the article I had mentioned at the beginning of this Blog posting about the beauty, wonders and health benefits of learning to 'Do Nothing'.
'If you want to live a life rich in meaning, first you must learn how to do nothing' by Nadine Levy/ Via The Guardian
'Our lives are busier and more complex than ever. How can we use mindfulness to get in touch with what truly matters?'
'On the odd occasion when I get a day to myself, I wonder what to do with it. As a parent who works full-time, time off is a rare occurrence. Unstructured time can feel unfamiliar and anxiety-inducing, particularly to those who live by the clock. In these rare moments I try to balance my needs: do I need rest, adventure, solitude or connection? Or do I need something else? But even this process can feel like work.
The question of how to use our time, and indeed our lives, manifests itself in different ways. How do we live a life that is rich in meaning, connection and joy? For some of us this question causes great angst, negatively impacting the way we show up in the world. For others it materialises in quiet doubts that can appear during periods of transition or self-questioning, such as when we're between jobs, upon retirement or when considering whether to start a family.
'Buddhists often engage in the practice of contemplating the fact that our lives are limited and our death is certain. If we only had a few weeks, months, a year or 10 years to live, what would we do with our time?...'- Continue to read
A further sample of related postings for your interest:
Connect a painting by Jacky Gerritsen
Journey to Healing: Let Me Know What is Essential
GCGI is our journey of hope and the sweet fruit of a labour of love. It is free to access, and it is ad-free too. We spend hundreds of hours, volunteering our labour and time, spreading the word about what is good and what matters most. If you think that's a worthy mission, as we do—one with powerful leverage to make the world a better place—then, please consider offering your moral and spiritual support by joining our circle of friends, spreading the word about the GCGI and forwarding the website to all those who may be interested.
'Fall in love with life and the living and the world will be a better place.'- Kamran Mofid